The results of our repost contest!
Publication date: 20.10.2017 13:00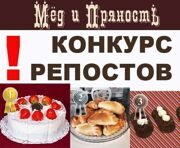 Repost contest ❗by "Med & Pryanost" on a regular basis❗

Dear frinds! We are ready to show you results of our REPOST CONTEST!

The 3rd place
comes for https://vk.com/manechka99 You get the set of wonderful cakes!
The 2nd place comes for https://vk.com/balashova1991! Your prize is an incredibly beautiful and delicious set of pastry cooked by our chef
and a jar of honey!
The 1st place comes for https://vk.com/axelaf666! And your prize is our magnificent cake!
Please contact us to get your prizes at an appropriate time
To be sure in results of out contest you can go to the page with results: http://randstuff.ru/vkwin/cbm8ju/ or watch video: https://youtu.be/IGEBvKBRLV4
Hope that next time you will take part in our contest again!