We take part in "Miss Kolomna" contest!
Publication date: 22.09.2017 10:54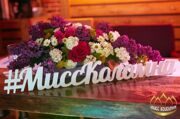 On September 23rd there will be a great event "Miss Kolomna 2017" in Moscow Region Speed Skating Centre "Kolomna".
We inform you that your favorite coffeehouse "Med & Pryanost`" is a partner of this event! That means that during this beauty contest you will be able to enjoy wonderful snacks, cakes and sweets from our kitchen!
Come to this contest and support beautiful participants from our wonderful city!
https://vk.com/misskolomna